What is a PLC programmable logic controller?
The PLC or Programmable Logic Controller is surely the cornerstone of the automation and process industry environment. Since its birth in the 1960s, as a replacement for electromechanical relay systems, it has been presented as an alternative for determining the operation of a machine control system or mechanical situations.
The origin of PLC comes from the concept of Programmable Logic Controller, which in English is Programmable Logic Controller. The PLC is an electrical circuit that automatically develops an established sequence, by means of wiring or programming. Such controllers are capable of automating a specific process, the operation of a specific machine or a complete production line.
As we have said, the conjunction of several programmable controllers make up sequential control systems. These systems will be implemented through programming in different languages and their function will be to organise specific orders within industrial automation. The most common programming is implemented by means of a contact diagram. The wide variety of options offered by a PLC automaton makes it possible for the technician to carry out modifications to the program without making important or costly changes to the wiring and its structure.
PLC Programmable Logic Controller
How a programmable logic controller works
In essence, the PLC captures information from connected sensors, processes the data and activates different solutions based on pre-programmed parameters.
Depending on the inputs and outputs, the programmable logic controller can monitor and record run-time data such as production line productivity, machine temperature, automatically start and stop processes or alert with alarms if a mechanical component fails.
The PLC is a flexible and fixed control solution, applicable in almost all programmable automation environments.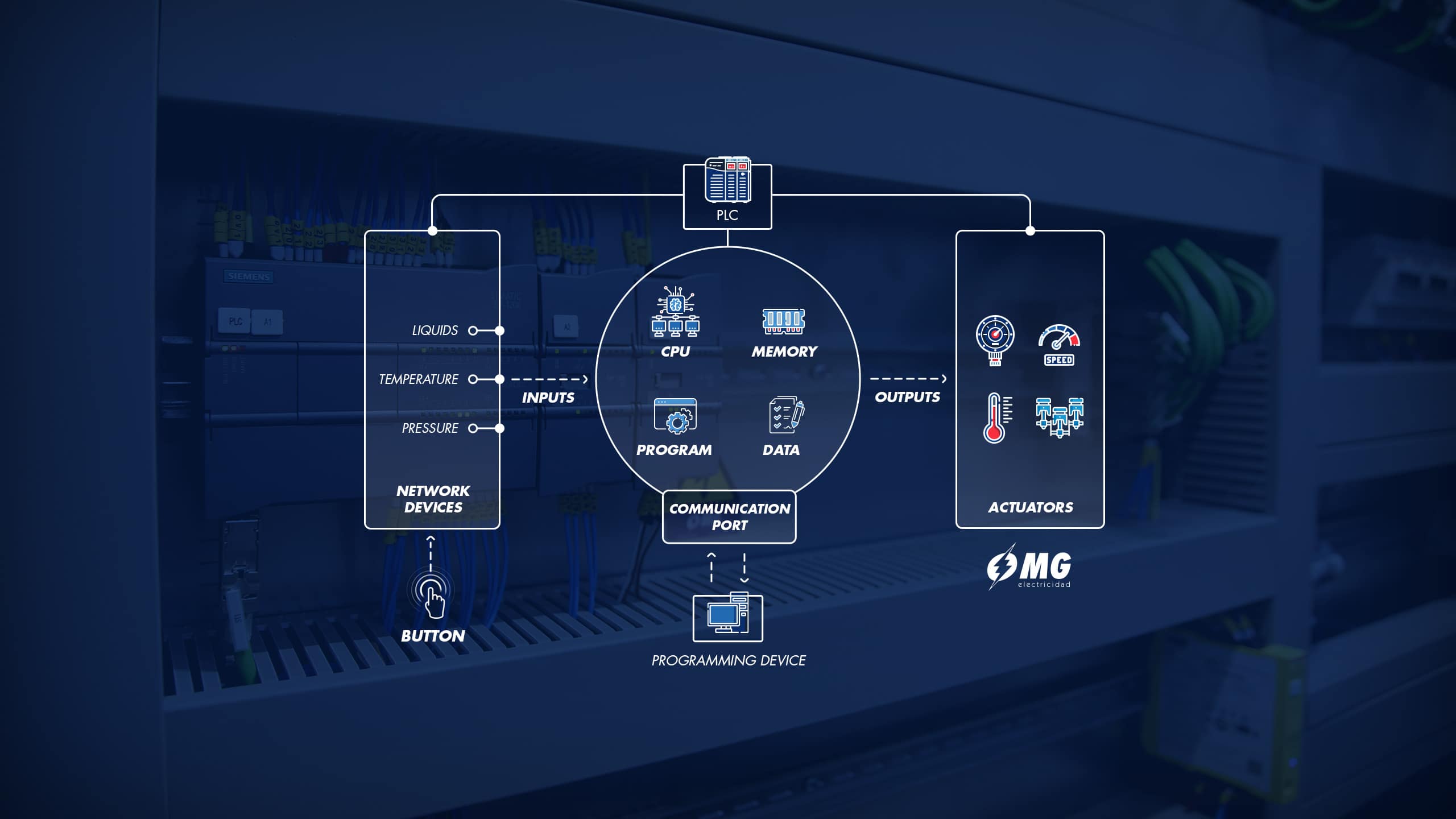 Programming of automatons
Any PLC program is commonly installed on a computer and then downloaded to its controller. In other words, the PLC itself is not able to perform any function until the technician configures how it should act.
Generally, manufacturers bring their own automatic programming software for the control of their devices under their brand name. However, although each manufacturer may have its own language, they are all framed within the IEC 1131-3 standard. 
The general programming language for PLCs is called Ladder Logic. This computer language simulates electrical circuit diagrams. On the other hand, we can find the Function Block Diagram (FBD), which is another very standardised PLC programming language.
Characteristics of a programmable controller
Compared to an ordinary computer, the PLC is composed of the following features: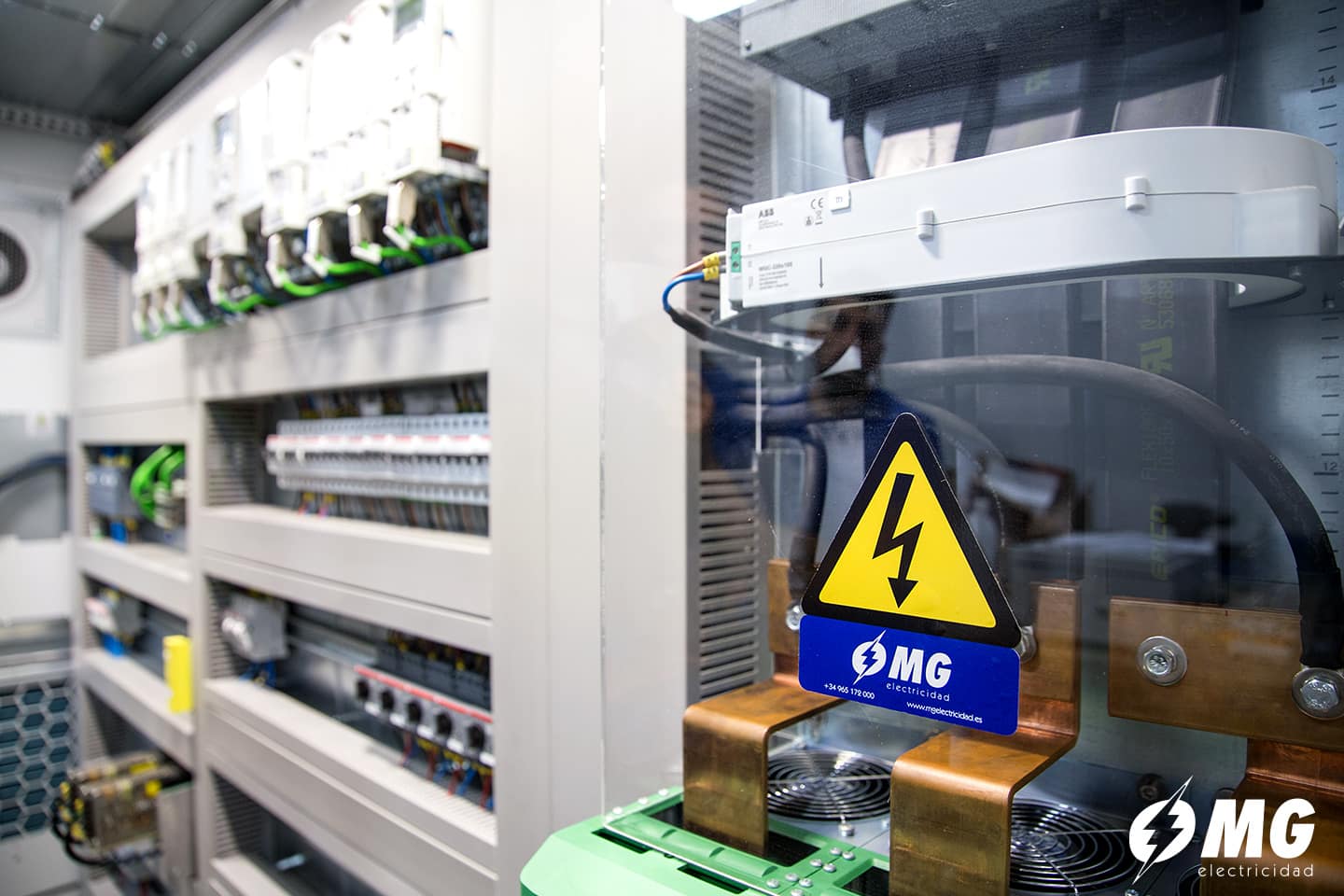 Advantages of programmable logic controllers or PLCs
In addition to performing similar tasks to wired control, PLCs can also perform more complex applications. In this way, the programming of the controller and its electronic communication lines replace much of the interconnection wiring required for wired control.
Therefore, wiring, although still necessary to connect the field devices, is less laborious. This also makes it easier to correct errors and modify the application. The advantages of a PLC include the following:

Size
Physical volume or size, smaller than the wired alternative.

Versatility
Easier and more versatile when making changes.

Functionality
Integrated diagnostics and override functions.

Productivity
Procesos de producción cambiantes, complejos y amplios.

Examples of programmable logic controllers and PLC applications
In recent years, the functionality of the PLC has expanded to include almost all sequential relay control, motion control, process control and networking. Today, the power and data processing, storage and communication capabilities of certain PLCs are on a par with those of standard computers. This is due to the combination of PLC-type programming with remote I/O hardware.
PLCs are mainly used in electronic installations where a manoeuvring, signalling and control process is required. The application of PLCs ranges from industrial manufacturing processes of any kind to industrial transformations, control of installations, etc.
Among the examples of programmable logic controllers, we can find PLCs as the support of a large number of applications in different industries: machinery, installations, automobiles, chemical and petrochemical industry, metallurgy, energy production, paper and wood industry, traffic, or the food industry, for which MG Electricidad has been working for more than 40 years.